Civilians and Communities II:
Coercion and Punishment
In his seminal work on irregular conflict, The logic of violence in civil war, Stathis Kalyvas argued that political actors invariably seek the exclusive collaboration of the whole population. Active collaboration – such as sharing information, carrying or hiding arms, and providing supplies or accommodation – is only required from a minority but compliance from the rest of the population should be exclusive. Collaboration with the opposition must also be prevented. Armed actors, therefore, 'prefer exclusive but incomplete collaboration to nonexclusive collaboration (such as neutrality or hedging) … they prefer a low level of collaboration to no collaboration at all'. Allowing defiance or defection to go unchecked can result in it increasing and becoming overwhelming.1 Faced, as Chapter 3 has shown, with incomplete cooperation, how did the IRA punish 'ordinary' defiance and deal with the far more dangerous 'spies and informers' that occupied much of their attention? This chapter will divide IRA punishment into two main categories: non-lethal and lethal. It will explore the nature of each in relation to the perceived offences that prompted it. A key area of debate among the historiography of the Irish Revolution is the victimisation of specific minority groups and this chapter will also explore the violence suffered by loyalists, most particularly Protestants and ex-servicemen, and ask if they were disproportionate or deliberate victims of excessively violent retribution. The chapter will then examine the punishment inflicted on women who defied the will of the IRA before finishing with a discussion of regional variations.
Non-lethal violence as punishment
Following Chapter 3, the vast majority of civilian defiance can be considered minor, or everyday. Most were not informers or enemy agents but instead guilty of 'non-cooperation' and 'nonconformity'.2 In the midst of a guerrilla war, non-cooperation was an affront to the authority of the army of the republic and, if left unhindered, potentially dangerous. Though insignificant in isolation, minor acts had a recognised potential to accumulate and spread. To that end, individual or communal instances of defiance were punished. If a pattern can be established among the wildly varying and often chaotic conditions of the many small wars that comprised the Irish Revolution, then it might be suggested that the punishment usually fit the perceived offence. Chapter 1 has already highlighted the reciprocal nature of punishment seen in the RIC boycott – those who contravened the boycott were most often boycotted themselves – and Chapter 2 has shown the use of threats, but not physical violence, to deal with recalcitrant ratepayers. A similar response is found with defiance of Dáil and IRA edicts, as highlighted with case studies examined in Chapter 2, the Belfast boycott and the arms fund levy.
In both cases the act of non-cooperation was essentially financial: selling or purchasing prohibited goods or refusing to contribute money. The punishment, in the vast majority of cases, was either directly or indirectly financial. Disobeying the Belfast boycott resulted in fines, more boycotting, and 'blacklists' of offenders. Pre-emptive attacks on traders saw trains and railway stations raided and goods believed to be coming from boycotted Belfast firms either taken away by armed men or burned on site. There were, for example, seven cases of the destruction of goods coming from Belfast reported to the RIC in Cavan in April 1921 alone.3 Pickets were regularly kept outside stations to monitor incoming produce and threats made that the picket would extend to a shop supplying prohibited goods.4 If goods were found to have made it to a trader and were put on sale, the premises were visited with the same results. The burning of goods, like other punishments with a potentially strong visual element, could be used as an act against the offender and a warning to others. Dublin Volunteer Joseph Kinsella claimed that 'when we had petrol or paraffin oil we would make a display by burning'.5 Usually, a supplier or trader was the victim but in Monaghan goods were destroyed after a customer had purchased them. 'In this way the boycott campaign became more effective as the country people feared to visit shops on which the boycott ban was placed.'6 Likewise, the Anglo–Celt saw the confiscation of Belfast goods from customers as a 'new phase' of the boycott in Cootehill, County Cavan.7
Commercial travellers and the agents of Belfast firms were driven from towns where they attempted to do business. Though boycott director Joseph MacDonagh presumed that the 'hands of the I.R.A. are too full for the Minister of Defence to instruct them to do the cleaning out of the commercial travellers', some were met with IRA resistance.8 In Navan, County Meath, for example, the local IRA ordered Belfast cattle dealers who had been frequent customers at the town's fair to leave the county in September 1920.9 One unlucky agent was 'arrested and later ducked in canal' by the Dublin Brigade Active Service Unit.10 But attempting to forbid commercial travellers, for whom this was a livelihood rather than a decision about where to procure goods, was not always a success, as William Stapleton recalled: 'commercial travellers and others were, I understand, contacted and warned to cease … In many cases this approach met with reasonable success, but in many cases traders persisted'. He remembered one man who refused to comply with the Belfast Boycott unit 'practically telling them they could do their damnedest'.11
Potential levy defaulters usually faced a similarly fiscal dilemma.12 The first response to defaulting was the seizure of livestock, often of a much greater value than the amount levied. If cash was not forthcoming, the livestock was sold and the excess raised (it was said) returned to the defaulter. In the context of the arms levy, this mode of punishment made sense, offering immediate access to the money local Volunteers felt they had been denied (and desperately needed to fund their war); destruction of property or physical violence may have frightened recalcitrants or encouraged others to pay, but the money, which was after all the focus of the exercise, still needed to be secured. Volunteers seem to have been reluctant, perhaps surprisingly given the opportunities presented, to steal money for the arms levy. In Roslea, County Fermanagh, one account recalled how 'anyone that didn't contribute had their houses raided and goods taken, but no money would be taken'. Raiders took shoes, clothes, an umbrella, and some bread, but not cash.13 Similar logic dictated the imposition of fines, another common punishment. In Cork, Richard Foley received a notice stating that 'Owing to the trouble and annoyance given by you in connection with the collection of our recent demand it has been decided to impose a fine of £3 on you.' The note warned that in the result of non-compliance, 'imperative instructions' would be carried out, and was signed 'Beware, I.R.A.'14 Unlike Foley, who disputed his own 'fine', the knowledge that an additional fine was potentially forthcoming acted as a deterrent against some who may have felt inclined to try and avoid paying. The path of least resistance was often the most sensible.
In other cases, the punishment was more extreme. Geoffrey Thompson was asked for £100. When he refused to pay – though he was hardly likely to have £100 to hand anyway – ten men from the local IRA company were billeted on him for over a month. In Skibbereen, another man was threatened with a revolver, tied up, blindfolded, had his beard cut, and was tortured with a razor.15 More severe treatment may have reflected additional 'crimes' or personal perceptions: the Skibbereen native was accused of 'keeping all his neighbours from subscribing to the Arms Fund' and Thompson was an ex-soldier. When it was proposed to fine an 'extra well-to-do' Protestant farmer £50, Richard Mulcahy casually suggested that, 'If you think 100 can be got as a fine he should be fined this amount.'16
On its own, refusing to pay a levy (or resulting fine) was unlikely to result in death but, like other incidents of minor defiance, it drew attention to an individual as uncooperative, 'hostile', or 'suspect' and some of these individuals formed, in Peter Hart's words, 'a large class of instant enemies'.17 Amid the right (or wrong) circumstances it could bring serious trouble. The shooting of John Harrison in County Leitrim in April 1921, Eunan O'Halpin has found, 'was the culmination of a dispute which began the previous October when Harrison refused to contribute to an IRA levy'.18 Similarly, three of the victims of the 'Bandon Valley Massacre' of April 1922 were alleged to have refused to contribute to an arms fund.19 Among loyalist compensation claims, a refusal to pay a levy was often cited as the act that first brought persecution. Albert Empey 'refused to pay levies to the I.R.A. and was boycotted for this reason'.20 Anna Maria Camier of County Cork 'was known to be a loyalist. I was boycotted in 1920 because of my refusal to subscribe to the I.R.A. funds'.21 Mary Harding and her husband refused to force their son to resign from the RIC and to stop entertaining three nephews in the Royal Navy, but 'In 1921, we were asked to subscribe to the I.R.A. funds, and when my husband refused, we were boycotted.'22
It was not always possible to 'deal' with levy defaulters during the war but the Truce period offered an opportunity for retrospective punishment. Many of the victims of post-Truce intimidation claimed to have offended the IRA before July 1921. In Tipperary, a threatening letter told Ada Vere-Hunt (a 'bloody Protestant') that she had 'made a dear bargain when ye kept money from us'.23 Albert Empey, who had refused to pay an earlier IRA levy, was forced to pay an extra £40 to get his crops threshed owing to a boycott imposed after the Truce.24 Elizabeth Johnson of County Cork had a bicycle and harness stolen in March 1922 and IRA men billeted on her in June; she 'had always refused to give money to the I.R.A. when they asked for it'.25 Such recurring narratives may, however, be potentially misleading. Refusing republican demands before the Truce, for which no IGC compensation would be offered, could be offered as evidence of loyalty, while levies paid under duress after the Truce were a recoverable loss. Nevertheless, there is enough testimony to suggest that cases occurred where those who had been untouched or inaccessible were victimised when it became much safer to do so. In counties Limerick, Tipperary, and Waterford, for instance, Gemma Clark has noted the 'strong evidence that shopkeepers, hoteliers and others were actively punished during the Civil War for their previous loyalties'.26 This could also be the case in areas where the local IRA had been relatively inactive. Laura Bayne was 'In safety during the trouble as all around feared reprisals if I was injured', but in June 1922 the kiosk from which she had supplied Auxiliaries in Gormanston, County Meath, was destroyed.27 Similarly, Thomas Galbraith noted that after the RIC had left Abbeyleix, Queen's County, in March 1922, the IRA began to intimidate his regular customers and many of them became afraid to deal with him.28
Destruction of property and boycotting were economic punishments. Aside from its social and psychological impact, ostracism from a community could be financially devastating for a small farmer, shopkeeper, or publican. Other acts of punishment had a similar effect. Arson to property or crops could deprive the victim of a home and a livelihood, while cattle driving and animal maiming (acts of violence most often equated with agrarian agitation) 'struck at the heart of farm life by attacking the very thing … that generates wealth'.29 Some Volunteers remained reluctant to inflict lethal punishment, even for serious offences: 'We could get our way by other means. We didn't want to kill anyone.'30 Boycotts, fines, and damage to property saved the victim from 'murder' and relieved the perpetrator from the legal (and psychological) consequences of committing violent acts.31
Lethal violence as punishment
Between January 1919 and December 1921, the IRA killed at least 277 civilians and, of those, 186 (or 65 per cent) were executed as 'spies'.32 In absolute terms, this is a small figure in the context of other cases of twentieth century irregular conflict and is dwarfed by thousands of recorded and unrecorded incidents of non-violent intimidation or unpunished civilian deviance. But even if most of those who fell foul of the IRA did not experience physical violence, the influence of killing was felt beyond its direct victims and fatal violence remains critical to an understanding of the nature of coercion during the Irish Revolution. Kalyvas has highlighted two key motivations for the use of lethal violence against civilians in irregular warfare. This first is tactical: targeting an individual or group to remove a specific risk. The second is strategic: 'to deter others from engaging in similar behaviour'.33 For the purpose of this chapter, it is necessary to ask why the IRA inflicted lethal violence on civilians, and to explore its impact on local communities.
A report from the OC of the Offaly Brigade entitled 'Remarks on Execution of Spies' highlights a 'strategic' use of lethal violence in the Irish context:
It was definitely established … that these men [executed by the IRA] were continuously communicating with the Enemy and helping to point out houses in which officers of the Battn were staying. Warning in such cases is useless. Its only result in a few cases here in which suspected spys were warned was that these men joined the Black & Tans. There have been numerous and continuous arrests in the district and spying is rampant.34
In the reports which follow of five executions, only one specifically mentions that the victim was threatened in advance: Michael Reilly, an ex-soldier shot in June 1921, was 'warned on two occasions' about his interaction with the police and military, but ignored the warnings.35 The OC in Offaly hoped that the killings would 'have a salutary effect' and the use of lethal violence can be, as Kalyvas points out, 'strategic and tactical at the same time'.36 The advent of the Truce somewhat negated their impact on others (if not, of course, relatives and friends) but they did prompt the police to introduce measures allowing information to be received 'in such a way as not to endanger the lives of informants'.37
The execution of a suspected or convicted civilian informer was justified on the grounds that they were a danger to the movement and the safety of local Volunteers. Charles Townshend has pointed out that it is 'impossible at this remove to assess the assertion (or admission) that spies represented a major threat to the IRA's survival' or, indeed, to judge the overall effectiveness of the IRA's attempts to detect and punish informers.38 But the perception that informers had to be dealt with severely can be observed widely within the movement. In South Roscommon it was argued that 'we must first wipe out spies and informers before any action of importance is successful'.39 Clare commander Michael Brennan declared that a 'wholesale wiping-out policy for people associating with the enemy seems to me to be essential'.40 Cork No. 2 believed that all communication with the enemy should be cut off as 'We cannot afford to wait for spies'.41 In Ulster, where the IRA faced the additional threat of loyalist paramilitaries, local units spoke of a 'large unionist and antagonistic population' and complained that 'owing to the fact that there are so many unionists in the district, it is hard to carry out an ambush'.42 As the intelligence officer in Cork No. 1 brigade later put it, 'civilian spies were considered by us to be the most dangerous of all … and unless they were quickly and severely dealt with would create havoc in our organisation'.43 By April 1921, GHQ had become uneasy about the reputational consequences of executing civilians – the OC of Cork No. 2 was instructed not to do 'anything exceptional … until you hear further from us' and General Order No. 20 stipulated that executions be ratified by the brigade commandant and reported to GHQ – but local fears often won out over pragmatic patience.44
The placing of the bodies of executed civilians in public areas where they would be easily found and the labelling of corpses with cards identifying them as 'spies' and 'informers' (the 'performance' of killing) was strategic. Both the body and the label pinned to it aimed to 'communicate a message to the relatives, friends, and local community of the deceased'.45 Notes served as a visceral and particularly gruesome threat to others about the consequences of their behaviour: 'Spies and informers, beware – I.R.A.'; 'Convicted spy. This is the penalty for all those who associate with the Aux. Cadets, the Black and Tans and the RIC'; 'Traitors beware, the I.R.A. never forgets'.46 The labels and the intimate nature of this type of violence combined as the conflict escalated to form something of a 'language of violence' that was clearly understood by the whole community. As Anne Dolan has pointed out, this was a very different, and very specific, kind of violence; it was a form of death with an immediately obvious message. As reports of the execution of alleged spies continued, people were 'schooled quickly in its etiquettes' and came to understand its consequences.47 This violence works most effectively as intimidation when those it targets with terror can quickly recognise and interpret it as such.
The most immediate influence was on the person who found the body, often a relative, but labels were also regularly reproduced in local and national newspaper reports and their impact disseminated, generating an immediate stigma that was keenly felt in the local community. After a statement was circulated about a body labelled as a spy in Dunmore, County Galway, the local parish priest announced at Sunday service that the IRA was not 'concerned in the tragedy' and 'regret is expressed at the pain caused by the suggestion that the victim was a spy'.48 Families were often keen to point out that a loved one was innocent of any dubious activity: 'I cannot account for his death in any way and so far as I know he had no enemies'; 'To the best of my knowledge my son did not belong to any political society'; 'my father had no political opinions and belonged to no organisation'.49 In communities where individuals could recognise and identify with the dead, and 'know all the reasons why the dead had died', it was much easier to apply the label than shake it off afterwards.50
The careful labelling of corpses also gave the impression of due process and inferred legitimacy on the killing of civilians. Those who had been killed were (regardless of the details of their alleged offences) 'spies', 'informers', and had been 'convicted'. Testimony from the BMH also suggests that the men involved in, or associated with, the killing drew moral comfort 'from using the language of due process to describe the steps by which civilian spies were killed' and 'the belief that a spy had received the fairest treatment available in the circumstances'.51 Some cards explicitly described a system of justice: 'Tried, sentenced and shot by I.R.A. Spies and informers beware'.52 The sharp increase of labelled bodies in the months before the Truce in July 1921 is indicative of both the increased brutality of the conflict and the confirmed status of civilians as legitimate targets for punishment.53 As in the case of David Walsh, a shell-shocked ex-soldier shot as a spy after 12 Volunteers were killed in an ambush at Clonmult, County Cork, executing a civilian 'spy' could also provide a convenient 'scapegoat' for IRA incompetence.54 In addition, there is an unconfirmed number of 'missing' civilian dead. By 'disappearing' bodies the IRA relinquished some of the public impact and legitimacy of a labelled victim but gained increased security as British forces were not alerted and others marked for the same punishment less likely to flee.55 But it is also worth considering the potentially powerful cumulative effect of rumours and gossip surrounding the disappearance of individuals within a community.56
The escalation of violence and the increasing success of British intelligence in 1921 coincided with sterner penalties against suspected civilian informers. As Joost Augusteijn has noted: 'The more serious fighting developed at the end of 1920 made informing increasingly life threatening to Volunteers. As a result, the punishments became harsher, resulting in several, sometimes unwarranted, executions.'57 Before 1921, no civilian spies had been executed in Armagh and South Down, and one alleged informer in Newry had been 'banished' rather than shot. But in June 1921, the IRA in Camlough executed two men, both members of the Ancient Order of Hibernians (AOH).58 This killing was an indication, as Dolan has pointed out, of a turning point, evidence that the nature of war had changed.59 It was also a sign that warnings, threats, and intimidation had failed. In Queen's County, a man seen 'going from house to house spying' and 'seen in company with the military and police on two occasions by local Volunteers' was court-martialled and warned to leave the area. When he did not he was rearrested, told 'it was too many chances he got', and executed.60 A superior of the battalion vice commandant responsible for the execution hinted at the justification for the killing: 'There are several persons in this area strongly suspected of spying but it is practically impossible to get proof of their guilt. In one case where a suspect was warned to leave the district he joined the Black and Tans and has since convicted several men arrested in the district on various charges.'61 Resorting to lethal violence was both an act of intimidation and a tacit admission that in some places warnings had become ineffective and sterner measures were needed.
But to what extent were local populations intimidated by lethal violence? After an armed raid during which bombs were thrown in his window, William Latimer, a Methodist farmer from Mohill, County Leitrim, surrendered to the raiders to protect his family. He was taken from his house and shot dead on the night of 30 March 1921.62 Latimer, described as 'a loyalist farmer', had given information about an IRA camp to the local doctor who passed it on to the police, leading to the deaths of six Volunteers. After her husband's death, Latimer's wife's health 'completely broke down and she left home and went to live with her father'.63 The killing also had an effect on Latimer's neighbours. Notices were sent around the area warning others that they would meet the same fate. John Dobson received one letter telling him to 'clear out before a month or you will be shot there and then like the spy Latimer' and another that if any reprisals took place he would 'suffer the extreme penalty'. Dobson did not leave but was described as 'one of the few local loyalists who either through fear, or in order to stand well with the majority, absented themselves from the funeral'.64 'In those days notices were genuine & had to be treated as such', as another recipient of a threatening letter referencing Latimer put it.65 A farming partner of Latimer's who helped Latimer's family, and assisted with his burial, became the victim of a rigorous local boycott. Having been kidnapped along with his son and held captive for 14 days they had, he alleged, 'to sleep out & in different places every night' leading to the death of his son from exposure in 1925.66 David McNeill, whose family were described by the RIC as 'Protestants and staunch Loyalists', was raided on 18 April by, it was believed, the same men who killed Latimer. He escaped through a window, left the area, and had not returned by November 1921, the same month another attack on his family was reported.67 Elizabeth Thompson's son was said to have fled the country at the same time as the local doctor who had received Latimer's information.68
Just over three weeks after the death of William Latimer, another Protestant farmer was shot dead nearby. John Harrison, a Methodist and father of twelve, was taken from his home on 22 April, his body 'riddled with bullets', and part of his skull shattered. Around Harrison's neck was tied (using his own bootlace) a card bearing the words 'Informers and Traitors Beware!'69 A 'quiet and inoffensive man', his family insisted that he took no part in politics on any side and was on excellent terms with his neighbours but the RIC believed that Harrison had 'refused to pay a levy for I.R.A. and hence the murder'; the levy, it seems, had provoked a long-running dispute with the local IRA. This second killing had 'put the loyal people of the community in a state of terror'. 'Several Protestant farmers', a police report claimed, 'have since left the locality and others are preparing to leave as they have been threatened with the extreme penalty. The situation is very serious and I think steps ought to be taken to break the terror under which the loyal people live'.70 George Davidson later confirmed a Protestant exodus, describing the district as 'boiling' after the killings.71 The shooting of Latimer and Harrison emphasises the effect that the proximity of violence could have on the fear or perceived threat posed to others in a community. Though the only two civilians killed by the IRA in County Leitrim, they nevertheless had a significant effect on the local population, their rarity perhaps adding to the shock.72 If Latimer's killing was punishment for the deaths of IRA men, then the notice pinned around Harrison's neck indicates that his was primarily a warning.
Applicants to the IGC often commented directly on the effect of the shooting of a neighbour or colleague. While Jane Cobbe's husband was approached and forced to sign over a piece of land in Queen's County to armed men she 'feared that he would be murdered if he did not do so, as on the previous night a loyalist named John Poynton, who lived about 80 yards away, was taken out and shot'.73 In Cork, where more civilians were killed than anywhere else, John Bolster Barrett of Kilbrittain described how:
Many of my friends and neighbours of the same political adherence were murdered in West Cork, some in their beds, a few more shot on the way to and from Bandon whither they had gone for food. I am a member of the Church of Ireland and I was told on two occasions by Sinn Féiners that all Protestants in West Cork were going to be shot … I had therefore to sleep in the fields … I have never been restored to the health I enjoyed previous to 1920.74
After his business partner was killed in Youghal, John Brookes claimed to suffer from 'constant fear that I would be shot'.75 As part of Henry Hoskin's attempt to prove he fled home fearing his life, he pointed out that 'Two Protestants were shot in Clonakilty that month'.76 One of the effects of the infamous Dunmanway and Bandon Valley killings in April 1922 was an immediate sense of panic and the flight (though often temporary) of many of the victims' Protestant neighbours. Alice Hodder described to her mother how 'For two weeks afterwards there wasn't standing room on any of the boats or mail trains leaving Cork for England. All loyalist refugees who were either fleeing in terror or had been ordered out of the country.'77 The legacy of the killings reverberated throughout the West Cork loyalist community. Wesley Bateman 'had to leave for England at the time of the West Cork murders in 1922'; John Barry Deane was threatened 'in 1922 when the terrorism was at its worst and when many loyalists were shot around Bandon including a brother solicitor78 in the adjoining town'; William Bryan was 'a well known Protestant Loyalist. Several Loyalists were shot in their houses at Bandon at the time.'79
In this context, it does not necessarily matter if local IRA units were actually planning, or ever intended, a purge of Protestants and loyalists in a neighbourhood. It is the perception of what was happening among those on the ground that is most important. The Irish Unionist Alliance was proclaiming 'Anarchy in the West of Ireland', 'A Reign of Terror', a 'Massacre of Irish Protestants', and printing an 'Appalling List of Victims'.80 If these messages, or some like them, took any sort of hold in southern Irish communities, and were reinforced with known examples (particularly local examples), there was enough potential to create an atmosphere of terror well beyond the reality.
Most civilians, regardless of political allegiance and location, were vulnerable to threats and the fear of violence but the response to a death threat could depend on the individual involved and feelings of perceived personal safety, bravery, or stubbornness unique to that person. In Kildare, where the IRA killed five civilians up to December 1921, Paul Fawcett Goodwin, an ex-soldier who had survived the Great War, described how he was threatened and 'left the country at once'.81 Conversely, John Martyn of Queen's County insisted he was 'told by Republicans to leave the country' but 'refused to go and was boycotted'.82 Many applicants to the IGC who suffered no physical injuries recalled fearing that they 'would be shot'. In Cavan, James Heaslip's wife was said to have 'remained out in fields at night in terror of being shot', Patrick McGrath's mother suffered ill-health 'as she had a continual fear of fatal happenings', and a Mayo applicant described how he felt he could not return home to gather testimony in his favour as the population in the West of Ireland were constantly 'in terror of their lives'.83 Nevertheless, many of the victims of revolutionary persecution proved themselves to be remarkably resolute and either hung on in the face of violence and intimidation or left and came back as soon as they felt they could.84
Loyalists
To republican minds, it was loyalists, broadly conceived, who were most likely to offer resistance. Chapter 1 has already discussed policemen, civil servants, and their families. Another minority group with a strong tradition of allegiance to the Crown was the Protestant population, the majority members of the Church of Ireland but also including Methodists, Presbyterians, and Episcopalians. Indeed, the standing of Protestants during the Revolution has been a continued source of debate and discussion. But to what extent did the IRA deliberately and disproportionately target Protestants and other identifiable groups of loyalists for violent punishment? Joost Augusteijn has suggested that 'Protestants, who remained largely aloof from the struggle, were initially not targets for intimidation' but as the conflict escalated during 1921 'became increasingly targeted by the Volunteers'.85 The compensation testimony of Protestant applicants to the IGC adds weight to Augusteijn's assertion. The Protestant applicants of County Cavan often gave instances of 'loyalty' that stretched back before 1919 and to the Home Rule Crisis and Great War – 'I was a loyalist organiser at the time of the signing of the Ulster Covenant'; 'always known as a staunch loyalist and never hid our views'; 'two brothers who served their King and Country'; 'deep personal interest in Red Cross work' – but described instances of intimidation or harm in 1921 and, most often, in 1922.86 The terms of the committee's remit, only allowing claims after 11 July 1921, may distort this picture to some extent, but it is nevertheless a revealing pattern given the flexible timeframe in which loyalty could be proved.87
British civil servant and political polemicist Lionel Curtis wrote that 'Protestants in the South do not complain of persecution on sectarian grounds. If Protestant farmers are murdered, it is not by reason of their religion, but rather because they are under suspicion as loyalists. The distinction is a fine, but a real one.'88 But when labels were effortlessly applied and perceptions influenced discourse, distinct categories became less easy to define. Isabel O'Connor, an English Protestant, was simply 'one of the lot they wished to drive out'.89 Mary Fletcher claimed to be from the 'class which always supported British rule'.90 When a Protestant referred to their 'lot' or their 'class' in their compensation application they were usually ambiguous and could refer to denomination, political allegiance, social standing, or a combination of the three. Ella Browne, for instance, was, in her own words, 'an enemy on account of my class, a Protestant and a loyalist'.91 Loyalty and religion could be variously co-dependent or mutually exclusive. Bandon Church of Ireland Protestant Joseph Northridge suggested that it was association with the Crown, rather than religion, that singled people out: 'It was only persons who were known for their allegiance to the Government … who were driven or tried to be driven out.'92 Richard Falkiner, a Protestant farmer in Galway, similarly remarked that 'only loyalists suffered victimisation such as I and my family experienced' and did not mention his religion. But for William Bradfield in Cork, it was 'only loyal people and Church people who were interfered with in my district'.93 The firm emphasis on loyalty displayed in the applications must be, to some extent, dictated by the IGC's demand that applicants prove their allegiance to the British government, but the fluctuating connections made between loyalty, defiance, and religion offer a sense of the ill-defined boundaries in operation. As will be argued further in Chapter 6, religion was a significant factor in determining how community groups identified themselves and each other. It could influence the perception and punishment of deviants to varying degrees without being a single defining feature of their treatment.
In the case of another social group noted as loyalists, ex-servicemen, religion was not as immediately relevant – many were Roman Catholic – but they were subject to a similar system of labelling and acknowledgment. Jane Leonard was the first historian to look seriously at the ex-soldiers of the Boer War and Great War as victims of republican violence. Leonard described how 'Ex-soldiers engendered both envy and hatred in the I.R.A. They were envied for their military skill and the rewards this had brought … They were despised for having fought in the British army'; they were 'natural', 'soft' targets for the IRA, particularly as the RIC and military became more entrenched and less accessible.94 More recently, Paul Taylor has explored the experiences of returning Great War veterans from 1918 to 1939. Taylor argues that Leonard and other historians who have noted the frequency of IRA violence against ex-soldiers have overestimated their status as victims. For Taylor, behaviour was the key determinant and it was rarely a war record alone that encouraged attacks on ex-soldiers.95 But if Leonard can be accused of overstating the impact of revolutionary violence on ex-soldiers, then Taylor underestimates it. By its crudest measurement, fatalities, ex-servicemen were disproportionate victims of IRA violence. Eunan O'Halpin's research on the dead of the Irish Revolution has concluded that almost half (47 per cent) of those killed by the IRA as spies were ex-servicemen. The extent of the targeting of ex-soldiers is most striking in counties with low overall levels of fatal violence. The IRA in Waterford, for instance, executed two civilian spies, in Wexford and Louth one each, and all were ex-soldiers. Four of the five civilian spies shot in Meath were ex-soldiers as were 75 per cent of all civilians killed by the IRA in King's County. In contrast, no ex-soldiers were shot by the IRA in the six counties that became Northern Ireland and only two in Ulster (one each in Cavan and Monaghan).96
Ex-soldiers were certainly more likely to interact socially and personally with Crown forces but were not necessarily any more likely to have useful information to pass on. After the killing of Hugh Newman, a Cavan farmer and ex-soldier, shot and labelled as a spy, the CI flatly denied he had been in contact with the police: 'He never gave us any information nor had any to give as the I.R.A. take good care that Loyal people such as this ex-soldier will be kept in the dark as to their movements or intended movements.'97 This suggests that, if they were not targeted for their former service to the Crown alone, there was certainly less reticence about shooting when they transgressed. Taylor is surely correct to point out that 'their military background would draw suspicion' but a suggestion that this alone 'could help to explain why a significant percentage of civilian spies killed by the IRA were ex-servicemen' is unsatisfactory. It did not take a connection to the Crown forces as strong as former service to bring a civilian under the notice of the IRA. Indeed, ex-soldiers, by Taylor's calculation, only account for 262 of over 4,000 claims to the IGC.98 When Taylor's careful analysis of incidents of intimidation is taken in to account, the high proportion of fatalities among ex-soldiers becomes more, rather than less, significant. Among the IGC claims, ex-servicemen (only 73 of whom described war service as a cause of intimidation) were not any more likely to claim compensation for revolutionary loss based on their proportion of the population in any county.99
If ex-servicemen were no more likely to fall subject to intimidation, coercion, or persecution, they were, in many counties, far more likely to be shot as a punishment for defiance. Local historian Donal Hall has found no evidence of a 'campaign' against ex-servicemen in Louth, but the Louth IRA killed two civilians, including only one 'spy' who was an ex-soldier.100 For reluctant shooters, a former military man may have made a more palatable target. Men with former military service were also, perhaps, both more accessible and more dangerous somewhere like Waterford where traditional Redmondite support remained strong or in Kildare where there was a large military presence based around the Curragh army camp. As Augusteijn has pointed out, returning ex-soldiers had already been alienated to some degree from their communities and 'Killing people considered to be "outsiders" has always been easier than shooting one of your own.'101 For those doing the killing it was also, perhaps, easier to rationalise and justify the killing of a man who had himself fought, held a gun, and, in all probability, killed. 'Ex-soldier', like 'Protestant', was an epithet applied to an individual remarkably often in newspapers, police reports, IRA records, witness testimony, and compensation claims. This alone is enough to suggest that a British military record should not be ignored as a factor that influenced community relationships.
Like the majority of civilians studied by Stathis Kalyvas who displayed 'a combination of weak preferences and opportunism', those whose political loyalties lay towards the Crown often deliberately avoided behaviour that might bring them into conflict with local republicans.102 For all those who gave information, whether for money, out of political conviction, or prompted by frustration or revulsion, there were the 'majority' who, as police chief Sir Ormonde Winter put it, 'remained inarticulate'.103 This silence was often maddening but police officials, army commanders, and prominent loyalists accepted that it was, to a large degree, inevitable. Lord Desart argued that:
We blame, & rightly blame, the respectable people for never giving information, but it is only fair to remember that while the vengeance of Sinn Fein is almost assured, it is demonstrated that the Government afford no effective protection against such vengeance, and I am not sure that where such a terrorism is established the authorities would get much assistance in any country from people who cannot protect themselves, whose property is vulnerable, & who have wives and children to think of.104
RIC County Inspector John Regan, who held a 'strong contempt' for many 'southern loyalists', was nevertheless similarly conscious of the dangerous position they were in. Among those whom he believed 'well deserved the name of loyalist' were some who 'maintained what might be termed a strict neutrality. They did not conceal the fact that their sympathies were not with the IRA but kept aloof from both sides.' 'They could not be blamed for this', he opined in his memoir, 'situated as they were in the country districts, at the mercy of their enemies and without protection of any kind, it would have been unreasonable to expect them to do anything to provoke IRA action against them.'105
Despite craving their information, police remained aware of the danger posed to those suspected of informing. Even in Cavan, where the IRA killed three civilians (in comparison with 89 in Cork), the police avoided contact with known loyalists for their own safety:
A very close watch is kept over all the County, on people who are known to be on friendly terms with the police, the result being that, in the interests of the well-disposed the police avoid as much as possible getting in touch with such people, as the slightest suspicion is sufficient in the eyes of the I.R.A. to justify the murder of suspected persons.106
Very often loyalists did not have intelligence of any use anyway. An IRA 'Intelligence Report' from May 1920, captured by British forces, noted: 'Our information about girls walking with "Peelers" (which are few) is that they give no information because they are not in a position to get any'.107 Similarly, Meath IRA veteran Peter O'Connell told Oliver Coogan that in Carnaross they 'strongly suspected or knew for definite' who was giving information 'but most of them had useless or wrong information … we might warn them but most of the time we just ignored them because they were harmless'.108 Nevertheless, during a conflict when the authorities insisted that many of those killed 'never gave us any information' or 'had given no information to me', any talk could be dangerous and self-preservation often won out over political allegiance.109 Loyalists were not short of examples they might wish to avoid. Hugh Newman was described by the Cavan county inspector as 'a fine type of manhood who spoke his mind freely. He was a R.C. in religion but a strong opponent of S.F. & said so. This was the cause of his murder as even from the I.R.A. point of view this man was a spy'.110 Edward Beirne, shot dead in Roscommon in April 1921, having assisting wounded policemen at the scene of an ambush, was similarly described by a local sergeant as 'a loyal man and on very friendly terms with the police. He was opposed to the Sinn Fein movement and frequently expressed his views forcefully.'111
John Darby's work has demonstrated that along with 'actual physical harm' and 'actual threat', civilians were subject to intimidation by 'perceived environmental threat'.112 Many civilians feared that any unwarranted or suspicious behaviour would bring vengeance from an omnipotent IRA without them ever having been personally harmed or threatened. J. H. Long wanted to bring refreshments to wounded soldiers but was told not to by his wife 'as there were spies of the I.R.A. all round'.113 Susan McNamara of County Clare acknowledged that 'some of the timid minded left off calling to my place. Personally I could not blame them as their own safety was of paramount importance to them.'114
The loyalist experience in Ulster is, for the most part, unique. In a broader sense, the Revolution there was more firmly drawn along sectarian lines, certainly in the six counties that later became Northern Ireland, but also, to some extent, in Cavan, Donegal, and Monaghan. The 'main axis of violence' was inter-communal and based on religious grounds (Catholic versus Protestant) rather than between the IRA and the Crown forces or (later) the Northern state.115 The very distinct labelling of civilian 'enemies' as 'Protestant', however, is less obvious in Ulster, particularly in areas with small Protestant minorities, where 'nationalists preferred to define their Protestant victims in terms of non-religious identities'.116 In all but the areas with significant Catholic/nationalist majorities, and unlike their outnumbered and outgunned brethren in the south, Ulster loyalists were as likely to be the perpetrators of violent punishment as its victims. Paramilitaries, vigilance groups, local militias, and the state-sponsored Special Constabularies defended their communities from republican or nationalist intrusion but also carried out pre-emptive and retaliatory violence.117 In Belfast (the subject of Chapter 5), for instance, organised and unorganised loyalists killed at least 18 civilians and three IRA up to December 1921.118 'Loyalist death squads' also killed at least 38 civilians outside of Belfast.119 Moreover, what Tim Wilson has described as 'militant loyalists' in Ulster enjoyed a 'large degree of support – or, at least, tolerance – from a unionist community that entertained a strong sense of ownership over its "defenders"'.120
Kalyvas has acknowledged that when the motivations for acts of violence can be discerned, they are often mixed and contradictory and can include a combination of factors including hate, peer pressure, obedience, honour, rituals, and collective imaginaries.121 The Irish case was no different and a combination of any of those things could define the victims of violence. Equally, perceived, individual acts of defiance and the behaviour and attitudes of local IRA units could determine both the victims and the extent of persecution. Importantly, it was rarely as simple as to be defined by one single factor. As David Fitzpatrick has put it, 'all motives are mixed, some are deliberately concealed, and others are unconscious'.122 Neither was the deliberate targeting of Protestants and ex-servicemen in Ireland unduly severe between 1919 and 1921 in a comparative sense. And though nothing close to a systematic, widespread campaign against minority groups took place in Ireland, the first six months of 1922 saw an escalating scale of violence against 'unwanted' groups. Increased suspicion of, and violence against, Protestants and ex-servicemen was matched by heightened anxiety among those groups. The increasingly intense atmosphere of reprisal and counter-reprisal that began in 1921 can be said to have reached its peak during the Civil War of 1922–23.123
'Women spies'
The IRA killed at least three female 'spies and informers' between 1919 and 1921.124 All three followed an order setting out the procedure for dealing with such cases. General Order No. 13 on 'Women Spies', issued in November 1920, instructed that:
Where there is evidence that a woman is a spy or is doing petty spy work, the Brigade Commandant whose area is involved will get up a Court of Enquiry to examine the evidence against her. If the Court finds her guilty of the charge, she shall then be advised accordingly and, except in the case of an Irishwoman, be ordered to leave the country within seven days. It shall be intimated to her that only consideration of her sex prevents the infliction of the statutory punishment of death. A formal public statement of the conviction shall be issued in poster or leaflet form, or both, according to the local circumstances, as a warning and a preventative.
In 'dangerous and insistent cases' commanders were ordered to seek instructions from GHQ.125 The shooting of Kate Carroll, Mary Lindsay, and Bridget Noble constituted a breach of this order. As Eunan O'Halpin has pointed out, the executions of Carroll in Monaghan and Lindsay in Cork proved a particular source of embarrassment to GHQ and, if anything, highlighted the necessity for a separate procedure for women. Those notable exceptions aside, however, suspected women informers were generally treated differently from men in even the most violent counties.126
In July 1921, Ernie O'Malley wrote to Richard Mulcahy arguing that 'women spies' should be shot, adding bitterly that some 'are only hiding behind their skirts', but there remained a general aversion to sanctioning the execution of women.127 Seán Healy recalled orders to deal with a female informer in Cork, a 'fiend' who 'hated the army of the people, and openly boasted that she would get all the I.R.A. men she knew hanged or shot by her English masters'. Healy was clear on her crimes, but recalled that this was a 'more delicate problem'; the 'shooting of women being abhorrent to soldiers generally, we decided to take her prisoner in the first instance.'128 When Michael Brennan wrote to Mulcahy asking what action to take regarding 'one notoriously bad case in which the girl concerned has defied the Volunteers when she was warned & another of a girl who has applied for a job as a woman searcher', Mulcahy suggested that Brennan consider 'the various ways in which from your knowledge of their circumstances, you consider they can be punished'.129 It was Edward O'Toole who was targeted for his wife's defiance in Tipperary when he was threatened with the 'extreme penalty' if he did not remove her from her employment in the local barracks.130 Similarly, a notice posted in Killavillen, County Kerry, reminded local 'girls' that 'England's soldiers shot down their brothers' but it was the soldiers who were warned that 'if they are found with girls, they will be shot'.131 It was also recognised outside the IRA that women would, in most instances, be treated differently from men. Elizabeth Thompson was accused along with William Latimer of giving information in Leitrim. Latimer was shot and one of Thompson's IGC referees remarked that 'probably she would have been murdered but being a woman.' Her son, presumably under the same assumption, was said to have emigrated soon after Latimer's killing.132
A sample of 120 non-lethal outrages directed specifically against women, taken from précis compiled by the RIC of incidents against police, their families, and their tradesmen and suppliers, offers a snapshot of the nature of punishment inflicted on women by the IRA. In each case the victims had family in the RIC (22 were policemen's wives), employment in local barracks, trade links with Crown forces, or courtships with a policeman or soldier. In the eyes of the IRA they were all assisting the enemy and potential sources of damaging information. In the reports, many had been warned against giving information but only four were directly accused of being a 'spy' or 'informer'.133 Just over half (62, or 52 per cent) of the outrages came in the form of threatening letters or notices. In 19 of the reports the police noted that lethal violence had been directly threatened or implied: 'your days shall be numbered and ended'; 'your existence in this world will be short and sharp'; 'we warn you for the last time to cease or you will be sorry'.134 The other threatening behaviours suffered by the women in the sample comprised raids on their homes by armed (and often masked) men (19 incidents) and damage to property (7 incidents). Raiders occasionally demanded or stole money but were usually satisfied with a verbal warning. Although the men who amassed outside Jane Healy's house in Mayo 'used filthy language and acted in a blackguardly manner', in only one case did a home raid result in physical violence when Winifred Molloy, a barrack servant in Tubbercurry, County Sligo, was struck on the shoulder with a gun.135
There are no reports of rape or sexual violence against women among the précis and, notwithstanding reticence in reporting such crime, it seems to have remained relatively rare during the Irish Revolution. In Ulster, for instance, the absence of recorded allegations of the rape of Protestant women by the IRA suggests that cases were infrequent as any propaganda opportunities offered by the allegations were unlikely to be spurned.136 Gemma Clark has shown that in Munster, 'besides a few shocking cases', there is similarly little evidence of rape during the Civil War.137 The physical violence often suffered by men is similarly absent among the reported incidents and the cases of 'other violence' found in Figure 4.1 are unpleasant but unrepresentative. A Miss Slattery in Tipperary was 'assaulted' and had her bicycle stolen, the family of a constable was physically removed from their home in Roscommon, and in King's County a 14-year-old girl was tied to a tree and interrogated about her policeman brother.138 The nastiest was the insertion of three metal rings in the buttocks of Roscommon woman Mary Green as a punishment for transporting milk for the police in her cart.139
Figure 4.1 Outrages against women, May 1920–December 1921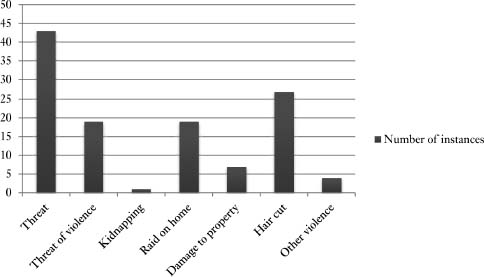 A survey of 19 female claimants to the IGC from County Cavan records a similar absence of physical violence. Ann J. Cox's house was entered by armed men in 1922; the raiders demanded money 'and threatened to burn me out if I refused to obey', warning on their way out that 'We will come back and shoot you if we ever hear anything about this'. She claimed that her nerves were 'ruined' by the raid and her invalided sister had never recovered from the shock.140 Elizabeth Adams was shot at when a neighbour who was standing next to her was hit and seriously wounded. The following day her house was raided and within a month she had been 'arrested', held for three days, and tried at a local court. A referee remarked that, 'It is believed she would have been shot only that she herself is a good rifle and revolver shot.'141 In March 1922, Martha Jackson was 'attacked by the rebels who fired point blank at me but owing to the darkness of the night and also that I lay prone on the ground, I am thankful to say my life was saved'. The following month she was 'badly abused' and rendered unconscious by raiders who beat her on the head, necessitating the use of spectacles afterwards.142 Another applicant was accidently shot and wounded by a member of the RIC.143 The majority, however, were victims of non-physical intimidation and eight were the alleged victims of an IRA boycott in the district of Arva.
The most common act of physical violence carried out against women by the IRA was the cutting of hair, with 27 cases (23 per cent) found among the sample. Some public notices made it explicitly clear that women who interacted with the Crown forces would have their hair cropped. In Mallow, County Cork, a notice posted on the chapel gate warned that 'Any girls speaking to the police from this day forward are liable to the penalty of hair cut'. A Galway notice threatened that women found in company with the police would have 'their hair cut and their ears amputated'.144 The cropping of hair offered a grimly visual reminder of transgression to the victim and an immediate warning to others. In Wicklow, 'young girls' were warned against keeping company with Crown forces and any who disobeyed would 'have her hair cut off so that she will be held in contempt by all loyal citizens of the "Irish Republic"'.145 Hair cutting – equally carried out by Crown forces146 – might also be seen, as Tim Wilson has observed, 'as a sexualised punishment in that it targeted the femininity of (usually Catholic) women who were held to have betrayed their national responsibilities'.147 This was a punishment aimed directly at women and usually replaced shooting as the ultimate penalty for female defiance. In at least four of the cases, hair cutting followed threatening letters that had been ignored.148 Two victims of hair cropping in Clare were told they 'were lucky they were not being shot', but in only two of the 27 cases was cropping accompanied by additional violence.149 Norah Walsh was taken from her home in Kerry by armed and masked men, 'where they cut her hair off and tarred her head'. After Maggie Lacy's hair was cut in Tipperary she was 'dragged 200 yards through the fields and thrown into a ditch among briars'. In April 1920, Maggie and Alice Donovan were brought outside at midnight and subjected to a 'court martial' where they 'were convicted and ordered to be shot through the heart', but after an objection from one of the crowd 'it was then decided to cut off their hair, which was done with a scissors'.150
The regional distribution of the sample of incidents against women broadly reflects wider patterns of violence. Incidents were most common in two counties with reputations for violence: Cork and Kerry, with 12 and 11 respectively. There is a reasonable geographical spread among the other counties but no incidents were reported in four 'quiet' counties (Armagh, Derry, Kildare, and Meath) and only nine reported in total in Ulster (one in Antrim, three in Down, two in Fermanagh, two in Monaghan, and one in Tyrone). Hair cropping is found in twelve counties, most commonly in Kerry, with four instances, and three cases are found in Galway, Longford, Kilkenny, and Clare.
Women were just as capable and just as likely, if not more so, than their male neighbours to interact with the Crown forces; in Cork, for example, at least four women informed on the IRA.151 But they were almost certain to avoid lethal violence, and when physical violence was used, it was most often violence adapted specifically for women. Women were regular victims of IRA intimidation but were less likely to appear as victims in police reports and less likely to apply later for compensation to the IGC. Marie Coleman has suggested that informally defined ideas on morality and acceptable violence, the considerations of a national and international propaganda war, and the prominence of female activists in the republican movement, may have all restrained violence (both lethal and sexual) against women, and ensured that those who defied the IRA were usually treated differently to men.152 In terms of lethal violence, Seán Healy's belief that shooting women was 'abhorrent to soldiers' may suggest an additional explanation linked to contemporary morality and perceptions about women's roles in combat. In many eyes (not just male), women could play a significant part in the struggle but they were not necessarily 'soldiers' on the same terms as the men, an attitude encapsulated in a rejection of Margaret Skinnider's military service pension application in 1925: 'the above mentioned Act is only applicable to soldiers as generally understood in the masculine sense'.153 For the same reasons that it may have been easier to shoot an ex-soldier, therefore, it was also more difficult to shoot a woman.
Though violence against the 'female person' was comparatively rare in revolutionary Ireland, it also worth noting, as Gemma Clark does, the psychological effects of violence on the female relatives – wives, sisters, mothers – of the men who were its victims: 'Attacks on the home during the revolutionary period arguably affected women more seriously than they did the men at whom the violence purportedly was aimed.'154
Regional variations
It is clear that the extent and nature of coercive violence employed by the IRA was subject to significant regional variation. Important studies by Erhard Rumpf, Tom Garvin, David Fitzpatrick, and Peter Hart have mapped and attempted to explain disparities in revolutionary activity across the country.155 This work has taken the administrative county as its standard unit. Though ordinary life was not always experienced in a 'county' – more often in a town or parish – and within county boundaries there are significant variations, the county approach makes sense in this context. As Hart pointed out, using counties allows for comparative analysis with census, electoral, and other similar data. The county was also 'the basis for Volunteer organisation' and 'operations within a local county were almost always carried out by local men', facilitating a pairing of actions with social characteristics and environment.156 This work has also necessarily focused on available and quantifiable datasets such as demographics, crime, election results, membership rolls, and fatal violence. Indeed, Hart wrote that the most reliable method of judging the intensity of revolutionary activity was 'by those killed or wounded by bullets or bombs', while Gemma Clark has concluded that 'It is more difficult to pinpoint prolonged campaigns of intimidation'.157 An understanding of regional variation in intimidation and coercive violence is, then, to be found by examining fatal violence.
Hart's important study of the distribution of IRA violence has found that it was 'overwhelmingly concentrated in the southern province of Munster (with the exception of county Waterford) and in the city of Dublin'. Beyond those areas, only Longford in Leinster and Monaghan in Ulster have a notable record for violent IRA activity. There are also significant variations in the intensity of violence over time, both nationally and within county boundaries. Broadly, violence increased dramatically from late 1920 and was at a peak when the Truce was called in July 1921. But this was not universal. While Cork remained a consistent source of IRA violence from 1917, Clare faded badly after 1920 having led the way between 1917 and 1919. Most of Longford's violence was seen between 1920 and 1921 and most of the slow-starters never caught up with the IRA units who had been shooting early and often.158
Non-lethal, and particularly non-violent, activity is much more difficult to map satisfactorily. Monthly police reports on incidents of intimidation and non-lethal violence are patchy and often dictated by the reporting style of a county inspector or his subordinate. In March 1920, the RIC began to compile statistics and précis of outrages against the police, their families, their tradesmen and suppliers, and against magistrates.159 The statistics do not give dates, locations, or specifics of outrages beyond a set of pre-defined categories but accompanying précis do provide this detail and often include additional information, such as possible motives and precedents. They are not comprehensive, however, even for the limited number of 'outrages' that were reported to the police.160 Cases of non-violent intimidation (excluding shooting, except where the police believed it was solely to intimidate) account for 695 incidents; the RIC recorded 2,719 outrages against the police, families, and suppliers from March 1920 to December 1921 and 16,304 total 'outrages' by 'Sinn Fein'. The data for non-violent intimidation becomes even more limited, and troublesome, in 1921. There are 520 précis on incidents of intimidation for the period March to December 1920 but only 175 for the whole of 1921.161 As lethal violence dramatically increased after 1921, the priority moved towards reporting incidents of shooting and away from threatening letters, raids on homes, seizures and destruction of property, and robberies (which often went unreported anyway). What was considered important enough to warrant a summary may well have been further dictated by levels of other violence in each county and, as Anne Dolan has suggested, what constituted an 'outrage' could vary over time and place; an apparently minor incident in a county like Cork viewed far more seriously somewhere else.162
The inadequacies of the material make it impossible to produce satisfactory statistics on the distribution of incidents of intimidation and coercion but certain patterns on the nature of IRA punishment can be discerned from an examination of lethal violence against civilians and the police. By all metrics in Table 4.1, Cork leads the way. In terms of overall fatalities, the 495 recorded for Cork is by far the highest, followed by Antrim (almost all in Belfast) and Dublin (the majority from the city). Cork's violent record is all the more notable when it is observed that the Cork IRA killed one less civilian than the bottom 25 counties combined; less than five civilians were killed by the IRA in 14 of the 32 counties. The figures also make clear the reciprocal nature of violence. Along with Cork, the Munster counties Tipperary, Kerry, and Clare all feature prominently among the figures for total, police, and civilian casualties. Similarly, the IRA in 'quieter' counties, those with fewer than 20 total fatalities, were less likely to shoot either civilians or policemen. They were also marginally more likely to shoot civilians than policemen, suggesting a preference for unarmed targets. The Munster IRA inflicted 135 (49 per cent) of civilian casualties and 243 (56 per cent) of police casualties up to December 1921 while Ulster units killed 27 civilians (10 per cent) and 49 police (11 per cent).
The density or rurality of an area may not necessarily dictate the likelihood of violent activity,163 but if lethal violence was also used to 'strategic' effect, as outlined above, then its impact may be influenced by proximity. Moving away from absolute figures towards those based on population (as Hart does) offers a slightly different dynamic, as seen in Table 4.2. The intensity of violence in Cork is confirmed by its proportion of total fatalities per 10,000 people (12.6) and the number of civilians killed by the IRA per 10,000 people (2.27), significantly higher than any other county. Following Cork in terms of a pro rata distribution of civilian fatalities by the IRA is, perhaps surprisingly, King's County (1.41). In absolute terms, King's is on the lower end of the scale but a civilian living in King's was proportionally more likely to be shot by the IRA than in any county bar Cork. Similarly, total fatalities per 10,000 people are almost the same in Carlow (3.6) as in Antrim (3.9). This is not to say that communities in King's County or Carlow experienced a more intense conflict. Rurality in King's, for instance, is not noticeably high (71 per cent), but the county's population was well spread out and ranks thirtieth in population density at 0.12. It is in the metropolitan centres of Dublin (0.79 density and 33.7 per cent rurality) and Antrim (0.28 density and 70.1 per cent rurality) that communities were closest to death, with Dublin enduring 6.5 fatalities (and 0.79 civilian fatalities by the IRA) per 10,000 people and Belfast accounting for almost all of the 3.9 fatalities per 10,000 people in Antrim. The nature of violence in these places was, however, distinct from Cork, king's, and elsewhere. Most of the dead in Belfast were victims of impersonal killing by sniping, riot, or explosion; in densely populated Dublin city, locals were far less likely to know a policeman or near neighbour who had been killed than an inhabitant of Bandon or Dunmanway in West Cork.164
Table 4.1 Lethal violence by county, 1919–1921
| | | | | | |
| --- | --- | --- | --- | --- | --- |
| County | Total fatalities | Civilians killed by IRA | Police killed by IRA | Fatalities per 10,000 people | Civilians killed by IRA per 10,000 people |
| Antrim | 224 | 9 | 14 | 3.9 | 0.15 |
| Armagh | 28 | 3 | 4 | 2.3 | 0.25 |
| Carlow | 13 | 4 | 1 | 3.6 | 1.10 |
| Cavan | 9 | 3 | 1 | 1.0 | 0.33 |
| Clare | 95 | 5 | 30 | 9.1 | 0.48 |
| Cork | 495 | 89 | 86 | 12.6 | 2.27 |
| Donegal | 20 | 2 | 6 | 1.2 | 0.12 |
| Down | 28 | 1 | 5 | 1.4 | 0.05 |
| Dublin | 309 | 37 | 39 | 6.5 | 0.78 |
| Fermanagh | 9 | 2 | 5 | 1.5 | 0.32 |
| Galway | 58 | 7 | 13 | 3.2 | 0.38 |
| Kerry | 136 | 15 | 37 | 8.5 | 0.94 |
| Kildare | 12 | 5 | 3 | 1.8 | 0.75 |
| Kilkenny | 19 | 5 | 3 | 2.5 | 0.67 |
| King's | 21 | 8 | 5 | 3.7 | 1.41 |
| Leitrim | 15 | 2 | 1 | 2.4 | 0.31 |
| Limerick | 121 | 7 | 39 | 8.5 | 0.49 |
| Londonderry | 41 | 0 | 7 | 2.9 | 0.00 |
| Longford | 26 | 5 | 15 | 5.9 | 1.14 |
| Louth | 26 | 2 | 3 | 4.1 | 0.31 |
| Mayo | 43 | 2 | 19 | 2.2 | 0.10 |
| Meath | 17 | 7 | 2 | 2.6 | 1.08 |
| Monaghan | 25 | 7 | 5 | 3.5 | 0.98 |
| Queen's | 10 | 4 | 1 | 1.8 | 0.73 |
| Roscommon | 58 | 10 | 13 | 6.2 | 1.06 |
| Sligo | 18 | 1 | 16 | 2.3 | 0.13 |
| Tipperary | 152 | 16 | 41 | 10.0 | 1.05 |
| Tyrone | 16 | 1 | 2 | 1.1 | 0.07 |
| Waterford | 35 | 3 | 10 | 4.2 | 0.36 |
| Westmeath | 18 | 6 | 4 | 3.0 | 1.00 |
| Wexford | 23 | 6 | 3 | 2.2 | 0.59 |
| Wicklow | 7 | 0 | 3 | 1.2 | 0.00 |
Table 4.2 Population, religion, density, and rurality by county, 1911
| | | | | |
| --- | --- | --- | --- | --- |
| County | Population | Non-Catholic population (percentage) | Population density | Rurality (percentage) |
| Antrim | 580,811 | 77.1 | 0.28 | 70.1 |
| Armagh | 120,291 | 54.67 | 0.39 | 65.5 |
| Carlow | 36,252 | 10.7 | 0.16 | 69.8 |
| Cavan | 91,173 | 18.53 | 0.2 | 89.7 |
| Clare | 104,232 | 1.85 | 0.13 | 85.7 |
| Cork | 392,104 | 9.13 | 0.17 | 63.1 |
| Donegal | 168,537 | 21.07 | 0.14 | 91.2 |
| Down | 204,303 | 68.43 | 0.34 | 67.1 |
| Dublin | 477,196 | 20.26 | 0.79 | 33.7 |
| Fermanagh | 61,836 | 43.81 | 0.15 | 89.7 |
| Galway | 182,224 | 2.36 | 0.13 | 84.3 |
| Kerry | 159,691 | 2.73 | 0.14 | 83.3 |
| Kildare | 66,627 | 17.92 | 0.16 | 72.7 |
| Kilkenny | 74,962 | 5.02 | 0.15 | 78.8 |
| King's | 56,832 | 9.94 | 0.12 | 71 |
| Leitrim | 63,582 | 8.52 | 0.17 | 94.3 |
| Limerick | 143,069 | 4.68 | 0.16 | 64.7 |
| Londonderry | 140,625 | 54.2 | 0.2 | 59.6 |
| Longford | 43,820 | 8.03 | 0.17 | 84.9 |
| Louth | 63,665 | 8.42 | 0.32 | 55.1 |
| Mayo | 192,177 | 2.13 | 0.15 | 89 |
| Meath | 65,091 | 6.81 | 0.11 | 86.1 |
| Monaghan | 71,445 | 25.32 | 0.23 | 83.8 |
| Queen's | 54,629 | 11.25 | 0.13 | 79.4 |
| Roscommon | 93,956 | 2.36 | 0.16 | 90.9 |
| Sligo | 79,045 | 8.75 | 0.18 | 83.5 |
| Tipperary | 152,433 | 5.42 | 0.15 | 70.7 |
| Tyrone | 142,665 | 46.71 | 0.18 | 82.9 |
| Waterford | 83,966 | 5.44 | 0.13 | 53.5 |
| Westmeath | 59,986 | 8.68 | 0.14 | 74 |
| Wexford | 102,273 | 7.68 | 0.18 | 74.3 |
| Wicklow | 60,711 | 20.93 | 0.12 | 67.3 |
The distribution of loyalist compensation claims offers one, albeit similarly limited, metric by which to measure non-lethal activity. If the number of claims is taken as an indicator of the intensity of persecution against self-proclaimed loyalists, then the figures can offer an insight into the pattern of intimidation and coercion. The figures in Table 4.3 cannot be satisfactorily compared with those in Table 4.1, however, as the losses considered by the committee were exclusively post-Truce. If an individual claim is seen as a single victim of IRA persecution or punishment this can only most accurately represent the post-Truce period, though many of those who claimed also referred to incidents of pre-Truce persecution. Nevertheless, the figures represent a useful index for non-lethal violence after the Truce. Broadly, the distribution of claims matches the patterns of violence in Table 4.1: Cork leads the way both absolutely and pro rata, and Munster accounts for almost half of the total number of claims. King's County's understated status in terms of IRA activity is again obvious with a total of 100 claims (17.6 per 10,000 people). Like Cavan, a significant proportion of claims originated in one district, in this case Mountrath, where there was a reasonably large non-Catholic population (12.5 per cent in 1911).165
There are no figures for the six counties that became Northern Ireland but the 'lost counties' of Ulster offer a useful test for IGC claims as a measure of non-lethal violence against loyalists. In these 'southern' counties, containing strong, and often armed and organised, loyalist communities, one might expect either notably large returns, as the volume of loyalists and Protestants generated significant IRA defiance and punishment, or notably small returns, as concentrated groups of loyalists defended their communities or remained inaccessible. In the three counties, the number of loyalist claims is out of proportion with levels of lethal violence. Cavan, the least violent of the three by most metrics, sees 95 claims (10.4 per 10,000 people) while Monaghan, the most violent, sees only 19 (2.6 per 10,000). Donegal, similar to Cavan in terms of violence, is somewhere in the middle with 113 claims but only 6.7 per 10,000.
Table 4.3 Claimants to Irish Grants Committee by county and province
| | | | | | | | |
| --- | --- | --- | --- | --- | --- | --- | --- |
| Leinster | | Ulster | | Munster | | Connacht | |
| Carlow | 76 | Cavan | 95 | Clare | 336 | Galway | 125 |
| Dublin | 218 | Monaghan | 19 | Cork | 797 | Leitrim | 79 |
| Kildare | 48 | Donegal | 113 | Kerry | 185 | Mayo | 142 |
| Kilkenny | 32 | | | Limerick | 120 | Roscommon | 72 |
| King's | 100 | | | Tipperary | 279 | Sligo | 71 |
| Longford | 43 | | | Waterford | 41 | | |
| Louth | 14 | | | | | | |
| Meath | 25 | | | | | | |
| Queen's | 284 | | | | | | |
| Westmeath | 37 | | | | | | |
| Wexford | 51 | | | | | | |
| Wicklow | 48 | | | | | | |
| Totals | 976 | | 227 | | 1,758 | | 489 |
Queen's County offers something of an anomaly: 284 claims (51.9 per 10,000 people), well out of kilter with any of the measures of violence in Table 4.1 (1.8 civilian fatalities per 10,000 and 0.73 civilians killed by the IRA per 10,000). While everyday violence in most other counties seems to have worked in tandem with lethal violence – where one is strong so is the other – the opposite is the case in Queen's. There, despite being unlikely to experience physical violence, a significant number of loyalists believed they had been the victims of low-level agitation based on their political and religious definitions. A long-running land dispute in Luggacurran created an intimidatory (but not necessarily violent) atmosphere, feelings of resentment, and generated several IGC applications among Protestant 'planters', and is suggestive of the way local political, social, and agrarian circumstances combined to create and define the revolutionary experience in a region.166 While the discrepancy is still difficult to explain fully, and may encompass a range of explanations, including the influence of peer pressure in a decision to seek redress or not, the prominence of Queen's among IGC claimants (and King's high levels of pro rata violence) emphasises the value of moving the discussion of the IRA's War of Independence away from a historiography dominated by 'violent' counties and towards a greater understanding of the everyday acts of revolution.
Conclusion
Where a county was more violent, and the IRA more inclined to shoot policemen, civilians were more likely to suffer lethal violent or non-violent punishment for acts of defiance. Everyday acts of harm and threat did not operate in isolation to the less common ambushes and executions but combined to dictate the atmosphere of violence and fear in an individual community. Punishment was selective, discriminate, and (usually) designed to match the perceived offence. Thus, the response to a levy defaulter was a threat or the seizure of property; uncooperative litigants were kidnapped to prevent their attendance at British courts; boycotts were enforced by spreading their scale. 'Spies and informers' offered a more immediate physical threat and lethal violence was therefore viewed as an acceptable and necessary punishment. Even still, it remained more common for informing to be treated leniently or go unpunished. Irish nationalists held an idealised self-image that included chivalry to women and this generally contributed to a more restrained approach to female defiance.167 Women were relatively rarely physically assaulted and only very occasionally shot. The cutting of hair was seen as the limit of sanction in most cases. But away from the upper limits of violent punishment, women were equally capable of deviance and therefore liable to be threatened, raided, fined, have their property damaged, or their business boycotted. The nature of community life effectively created its own boundaries, its own means of resistance, its own reasons for suspicion or fear, and its own methods of enforcement.
The most common violence witnessed here was non-lethal and often had a financial rather than physical effect. Other common forms of irregular violence – rioting, sniping, stone throwing, etc. – are notably absent. It was only in Belfast, unique in the context of Irish revolutionary violence, that such communal violence was found to any great extent. For the city's residents, it was this communal violence that dominated their experience of the Irish Revolution, and its timing. Belfast will be the subject of the next chapter.
_________________
1 kalyvas, The logic of violence in civil war, p. 104.
2 Hart, The I.R.A. and its enemies, p. 298.
3 MCRs, CI, Cavan, Apr. 1921 (TNA: CO 904/115).
4 For examples of pickets at railway stations in Cavan, see Anglo–Celt, 2 Oct. 1920, 23 Oct. 1920.
5 BMH WS 476 (Joseph kinsella).
6 BMH WS 740 (John McGahey).
7 Anglo–Celt, 16 Apr. 1921.
8 Joseph MacDonagh to Department of Finance, c.18 Jan. 1921 (NAI: DÉ 2/261).
9 Coogan, Politics and war in Meath, p. 208.
10 Dublin Brigade Diary of Operations, Mar. 1921 (UCDA: P7/A/39).
11 BMH WS 822 (William James stapleton).
12 Wilson, Frontiers of violence, p. 36.
13 Quoted in Wilson, Frontiers of violence, p. 146.
14 Notice from 'Headquarters', IRA, 7 Mar. 1921 (UCDA: P7/A/27).
15 Geoffrey Thompson claim (PRONI: D989/B/3/13); Hart, The I.R.A. and its enemies, p. 81. For an example of leniency, see CI John Regan's anecdote about his sister who was asked for a contribution in Joost Augusteijn (ed.), The memoirs of John M. Regan, a Catholic officer in the RIC and RUC, 1909–1948 (Dublin, 2007), p. 152.
16 OC Cork No. 2 to Cs, 19 Mar. 1921; Cs to OC Cork No. 2, 26 Mar. 1921 (UCDA: P7/A/38).
17 Hart, The I.R.A. and its enemies, p. 81.
18 Eunan O'Halpin, 'The Military service Pensions Project and Irish history: a personal perspective', in Patrick Brennan and Catriona Crowe (eds.), A guide to the Military Service (1916–1923) pensions collection (Dublin, 2012), p. 153.
19 Ungoed-Thomas, Jasper, pp.115–16; Hart, The I.R.A. and its enemies, p. 286. See also the case of John Harrison, in Eunan O'Halpin, 'Problematic killing during the war of independence and its aftermath: civilian spies and informers', in kelly and Lyons, Death and dying in Ireland.
20 Albert Empey claim (PRONI: D989/B/3/9).
21 Anna Maria Camier claim (/3/8).
22 Mary Harding claim (/3/10).
23 Quoted in Clark, Everyday violence, p. 111.
24 Frederick William Barkman claim (PRONI: D989/3/10).
25 Elizabeth Johnson claim (TNA: CO 762/183/4).
26 Clark, Everyday violence, p. 141.
27 Laura Leah Bayne claim (TNA: CO 762/18/11).
28 Thomas Adolphus Galbraith claim (PRONI: D989/B/3).
29 Clark, Everyday violence, pp. 85–9, 115–25, 151.
30 Quoted in Coogan, Politics and war in Meath, p. 192.
31 Clark, Everyday violence, p. 140.
32 O'Halpin, 'Problematic killing', pp. 328–9.
33 kalyvas, The logic of violence in civil war, p. 27.
34 OC Offaly Brigade, 'Remarks on Execution of spies', 1921 (NLI: MS 33,913(4)).
35 'Report on "Court of Enquiry" and "execution" of Michael Reilly, ex-soldier, Cloghan', 1921 (Ms 33,913(4)).
36 OC Offaly Brigade, 'Remarks on Execution of spies', 1921 (Ms 33,913(4); kalyvas, The logic of violence in civil war, p. 27.
37 MRCs, CI, King's County, Jun. 1921 (TNA: CO 904/115).
38 Townshend, The republic, p. 265.
39 South Roscommon Brigade quoted in Townshend, The republic, p. 262.
40 Brennan to Cs, 29 Mar. 1921 (UCDA: P7/A/38).
41 OC Cork No. 2 to Cs, 19 Mar. 1921 (/38).
42 Lurgan and kilteel battalions, Armagh, quoted in Lewis, Frank Aiken's war, p. 76.
43 BMH WS 574 (Robert C. Ahern).
44 Cs to OC Cork No. 2, 26 Mar. 1921 (UCDA: P7/A/38); General Order No. 20 (New Series), 'spies', 20 Apr. 1920 (NLI: MS 739).
45 Clark, Everyday violence, p. 171.
46 Labels found on the bodies of Patrick Briody, Cavan, Anglo–Celt, 28 May 1921; James Beale, Cork, Military enquiry in lieu of inquest, 16 Feb. 1921 (TNA: WO 35/146B/4); Arthur Vickers, kerry, Irish Independent, p. 15 Apr. 1921.
47 Dolan, 'spies and informers beware …', pp. 159–66.
48 Irish Independent, 1 Jun. 1921.
49 Military enquiries in lieu of inquest, James Blagriff (TNA: WO 35/146B/7); Michael Coen (/147A/83); Patrick O'Connell (/155B/39).
50 Dolan, 'spies and informers beware …', p. 169.
51 O'Halpin, 'Problematic killing', p. 324.
52 Labels attached to the bodies of William Good, Cork, and Robert Healy, Tipperary, Irish Independent, 30 Mar. 1921, 17 Jun. 1921.
53 See, for example, MCRs, IG, May–Jul. 1921 (TNA: CO 904/115–16) where bodies are regularly referred to as having been found with the 'usual Notice'.
54 O'Halpin, 'Problematic killing', pp. 325–6.
55 O'Halpin, 'Problematic killing', p. 339.
56 See Darby, Intimidation and the control of conflict, pp. 54–5.
57 Augusteijn, From public defiance to guerrilla warfare, p. 290.
58 Lewis, Aiken's war, pp. 81–3.
59 Anne Dolan, 'Ending war in a "sportsmanlike manner": the milestone of revolution, 1919–23', in Thomas Hachey (ed.), Turning points in twentieth century Irish history (Dublin, 2011), pp. 21–38.
60 Vice Commandant, 3rd Battalion, Laois Brigade, 29 May 1921 (UCDA: P7/A/17).
61 Unsigned letter forwarded to Cs, 17 Jun. 1921 (/17).
62 Anglo–Celt, 9 Apr. 1921.
63 'Case No. 9, Class C', Isabella Latimer (TNA: CO 905/17); MCRs, CI, Leitrim, Mar. 1921 (904/114); O'Halpin, 'Problematic killing', pp. 333–4.
64 John J. Dobson claim (TNA: CO 762/36/12).
65 Joseph knott claim (/32/9). He had already been targeted under the Belfast boycott and for housing an RIC officer.
66 Thomas Cunningham claim (/98/15).
67 Breaches of the Truce, Leitrim, Nov. 1921 (TNA: CO 904/153).
68 Elizabeth Thompson claim (762/174/2).
69 Anglo–Celt, 30 Apr. 1921.
70 Irish Independent, 23 Apr. 1921; Anglo–Celt, 30 Apr. 1921; MCRs, CI, Leitrim, Apr. 1921 (TNA: CO 904/115); O'Halpin, 'Problematic killing', p. 333.
71 G. G. Davidson claim (TNA: CO 762/42/13).
72 O'Halpin, 'Problematic killing', p. 329.
73 Jane Cobbe claim (PRONI: D989/B/3/8).
74 John Bolster Barrett claim (/3/8).
75 John Brookes claim (TNA: CO 762/50/3).
76 Henry Hoskin claim (/66/10).
77 Alice Hodder to her mother, 28 May 1922 (CO 739/16).
78 Francis Fitzmaurice. See Hart, The I.R.A. and its enemies, p. 273.
79 Wesley Bateman claim (TNA: CO 762/50/13); John Barry Deane claim (/37/1); William Bryan claim (/15/3).
80 Irish Unionist Alliance pamphlets (PRONI: D989C/1/39, /40, /68). Some were printed and presumably aimed for distribution in Britain, but others were produced and printed in Dublin.
81 O'Halpin, 'Problematic killing', p. 328; Paul Fawcett Goodwin claim (PRONI: D989/B/3/9).
82 John Martyn claim (/3/11).
83 James Heaslip claim (TNA: CO 762/139/1); Patrick McGrath claim (/60/7); T. J. Lush claim (/21/11).
84 Andy Bielenberg, 'Exodus: the emigration of southern Irish protestants during the Irish war of independence and the Civil War', Past and Present, 218 (2013), p. 211.
85 Augusteijn, From public defiance to guerrilla warfare, p. 294.
86 Arthur McClean (TNA: CO 762/183/2); M. E. Lord claim (/142/3); Ann J. Cox claim (/175/5); Elizabeth Adams (/137/9).
87 Some claimants may have changed or amended dates to suit when pressed by the committee: see, for example, Robert Graham claim (/164/11).
88 Pat Walsh (ed.), Ireland (1921) with an introduction to the Anglo-Irish treaty and the 'lost world' of Imperial Ireland by Lionel Curtis and Henry Harrison on South Africa and Ireland (Belfast, 2002), p. 60.
89 Isabel O'Connor claim (/170/22).
90 Mary Fletcher claim (/134/11).
91 Ella Browne claim (/60/18).
92 Joseph Northridge claim (/37/2); Anne Applebe and son claim (/37/4).
93 William B. Bradfield claim (/186/14).
94 Jane Leonard, 'Getting them at last: The I.R.A. and ex-servicemen', in Fitzpatrick, Revolution?, pp. 119–29.
95 Paul Taylor, Heroes or traitors? Experiences of southern Irish soldiers returning from the Great War, 1919–1939 (Liverpool, 2015), pp. 1–79.
96 O'Halpin, 'Problematic killing', p. 332.
97 MCRs, CI, Cavan, Jun. 1921 (TNA: CO 904/115).
98 Taylor, Heroes or traitors, pp. 41, 44.
99 Taylor, Heroes or traitors, pp. 44–6, 75–9.
100 Donal Hall quoted in Taylor, Heroes or traitors, p. 25; O'Halpin, 'Problematic killing', p. 329.
101 Augusteijn, From public defiance to guerrilla warfare, p. 293.
102 Kalyvas, The logic of violence in civil war, pp. 101–3.
103 Peter Hart (ed.), British intelligence in Ireland, 1920–1921, the final reports (Cork, 2002), p. 82. Winter made the same claim in his memoir Winter's tale, pp. 293, 299, 301.
104 Desart to Midleton, 27 Mar. 1920 (TNA: PRO 30/67/42).
105 Augusteijn, The memoirs of John M. Regan, pp. 149–50.
106 MCRs, CI, Cavan, Jun. 1921 (TNA: CO 904/115); O'Halpin, 'Problematic killing', p. 328.
107 Epitome of documents taken from Eileen McGrane, arrested 1 Jan. 1921 (LHCMA: 7/24).
108 Coogan, Politics and war in Meath, p. 164.
109 MCRs, CI, Cavan, Jun. 1921 (TNA: CO 904/115). Military inquiry in lieu of inquest, Francis C. Boyle, Jun. 1921 (WO 35/146B/10).
110 MCRs, CI, Cavan, Jun. 1921 (CO 904/115).
111 Military inquiry in lieu of inquest, Edward Beirne, Apr. 1921 (WO 35/146B/5).
112 Darby, Intimidation and the control of conflict, pp. 52–7.
113 J. H. Long claim (TNA: CO 762/27/14).
114 Susan McNamara claim (TNA: CO 762/23/15).
115 Wilson, Frontiers of violence, p. 17.
116 Wilson, Frontiers of violence, p. 136.
117 For loyalist paramilitary groups and militias, see Bowman, Carson's army, pp. 190–201.
118 Eunan O'Halpin and Daithí O Corráin, The dead of the Irish Revolution (forthcoming). I am grateful to Professor O'Halpin for sharing these figures.
119 Wilson, Frontiers of violence, pp. 108, 150.
120 Wilson, Frontiers of violence, pp. 75, 108–9.
121 Kalyvas, The logic of violence in civil war, pp. 24–5.
122 Fitzpatrick, Descendancy, p. 160.
123 See Clark, Everyday violence, pp. 136, 176, 197–9, 203.
124 See the execution of Mary Lindsay in Hart, The I.R.A. and its enemies, pp. 308–10, Kate Carroll in McGarry, Eoin O'Duffy, pp. 65–6, and Bridget Noble in O'Halpin, 'Problematic killing', pp. 336–7. O'Halpin suggests there may be more, unconfirmed cases.
125 General Orders (New Series), 1920, No. 13 'Women Spies', 9 Nov. 1920 (UCDA: P7/A/45).
126 O'Halpin, 'Problematic killing', pp. 334–5. For violence against women by Crown forces, see Louise Ryan, '"Drunken Tans": representations of sex and violence in the Anglo-Irish War', Feminist Review, No. 66 (2000), pp. 73–94 and, more recently, Marie Coleman, 'Violence against women during the Irish War of Independence, 1919–21', in Ferriter and Riordan, Years of turbulence, esp. pp. 143–55.
127 O'Malley to CS, 4 Jul. 1921 (UCDA: P7/A/21). In reply, Mulcahy confirmed that women must not be executed without reporting to GHQ first.
128 BMH WS 1,643 (Seán Healy). The alleged informer managed to escape before she was apprehended.
129 Brennan to CS, c. Jun. 1921; CS to Brennan, 12 Apr. 1921 (/17).
130 Weekly summaries (TNA: CO 904/148).
131 Threatening Notice in Tralee, Kerry (/148).
132 Elizabeth Thompson claim (TNA: CO 762/174/2).
133 Mrs Roddy, Monaghan (TNA: CO 904/148); Alice Averill, Tyrone (/149); Mrs McNulty and Mrs Lynch, Roscommon (/150).
134 Mrs Githin, Fermanagh; Alice Gourley, Tipperary, Mary Brien, Tipperary S.R. (/148).
135 Jane Lynch, Mayo (/150); Winifred Molloy, Sligo (/148).
136 Wilson, Frontiers of violence, p. 120.
137 Clark, Everyday violence, pp. 186–93.
138 Weekly summaries (TNA: CO 904/150).
139 Weekly summaries (/149).
140 Ann J. Cox claim (CO 762/175/5).
141 Elizabeth Adams claim (/137/9).
142 Martha Jackson claim (/175/11).
143 Matilda Magee claim (/94/6).
144 Weekly summaries (TNA: CO 904/148).
145 Weekly summaries (/149).
146 Coleman, 'Violence against women', p. 141. Coleman has identified hair cutting as 'gender violence', rather than sexual violence, violence aimed at victims because of their gender but not involving sexual contact.
147 Wilson, Frontiers of violence, p. 120.
148 Julia Kennedy, Wicklow; Mary Maloney, Tipperary; Kate kelly, Longford; Nina Wright, Longford (TNA: CO 904/148–50).
149 Minnie Keane and Annie O'Shea, Clare (/149).
150 norah Walsh, Kerry and Maggie and Alice Donovan (/48); Maggie Lacy, Tipperary (/49).
151 Hart, The I.R.A. and its enemies, p. 304.
152 Coleman, 'Violence against women', pp. 151–2.
153 Letter to Maighread Ni Scineadora, 2 Apr. 1925 (MAI: W1/P/724). For a recent astute study of women's attitudes towards their own participation in the Easter Rising, see Senia Pašeta, Irish nationalist women, 1900–1918 (Cambridge, 2014), pp. 181–93. Charles Townshend has written that Cumann na mBan, the women's republican organisation, saw itself as a 'military organisation' but 'equally definitely specified that its military role was auxiliary' and made no serious effort to secure arms: Townshend, The republic, pp. 47–52.
154 Clark, Everyday violence, p. 192.
155 Rumpf and Hepburn, nationalism and socialism; Garvin, The evolution of Irish Nationalist politics; Fitzpatrick, 'The geography of Irish nationalism', pp. 113–44; Hart, 'The geography of revolution, pp. 142–76.
156 Hart, The I.R.A. at war, pp. 33–5.
157 Hart, 'The geography of revolution', pp. 144–5; Clark, Everyday violence, p. 196.
158 Hart, 'The geography of revolution', pp. 146–55.
159 Weekly summaries (TNA: CO 904/148–50).
160 Lowe, 'The war against the R.I.C', p. 89.
161 The figures for outrages recorded by the police are calculated from weekly return sheets and an analysis of the available précis (TNA: CO 904/148–50).
162 Anne Dolan, '"The shadow of a great fear": terror and revolutionary Ireland', in Fitzpatrick, Terror in Ireland, pp. 34–5.
163 Fitzpatrick, 'The geography of nationalism', pp. 133–6; Hart, 'The geography of revolution', p. 160.
164 For the impersonal nature of violence in Belfast, see Hart, The I.R.A. at war, pp. 247–50 and in Dublin, see Augusteijn, From public defiance to guerrilla warfare, pp. 327–32.
165 See 1911 census returns (census.nationalarchives.ie) (23 Sep. 2013).
166 For a full survey of Luggacurran in this period, see Leigh-Ann Coffey, The planters of Luggacurran, County Laois: a Protestant community, 1879–1927 (Dublin, 2006).
167 Wilson, Frontiers of violence, p. 119.